Waterproof head torch Exposure RAW Pro 2
New RAW Pro 2 now available
The Exposure RAW Pro 2 headlamp is 100% waterproof and rechargeable with a magnetic connector to USB. Featuring an aluminum housing that combines durability and lightness (80 grams), this headlamp offers 2 light beams; a red one for preserving night vision and a bright white one (265 lumens). The 7 lighting modes can be operated with a simple press on the single button that controls the functions of the headlamp.
Waterproof


Take it with you everywhere with confidence
---
The Exposure RAW Pro headlamp is a compact accessory designed to effectively illuminate all your adventures. Lightweight and comfortable, it offers an adjustable light beam, multiple lighting modes (white and red LED), simplified operation with a single button, and a battery indicator.
Durability and reliability

Exposure RAW Pro 2 the waterproof headlamp
Ally of professional navigators

The Exposure RAW Pro 2 headlamp is designed for activities requiring hands-free operation. It stands out for its waterproofness and its anodized aerospace aluminum casing, allowing for prolonged exposure to seawater without damage.

This headlamp has an IPX7 protection rating, guaranteeing a completely sealed design to resist water and prolonged immersion, making it perfectly suited for use at sea.

Ideal for professional sailors and demanding nautical adventurers, the Exposure RAW Pro 2 also offers excellent shock resistance. It is designed to withstand the toughest maritime conditions while providing reliability and robustness.
Ergonomics: ultimate comfort

A compact aluminum housing
for a lightweight and comfortable headlamp

With an ultra-compact format to minimize bulk, this headlamp weighs only 80 grams, including the mount and headband. The 32mm wide elastic headband ensures optimal support, eliminating the need for an upper strap.
The lightness of the headlamp ensures a stable and secure attachment close to the head.
The elastic headband is fully adjustable thanks to a wide Velcro strap, allowing for precise focusing.
On the inner part, a silicone band provides better grip and serves as a sweat deflector.
The gray woven pattern is reflective when illuminated by ambient light, offering 360-degree visibility.
The elastic headband is washable.
Waterproofness IPX7
envelope protection rating
Only 80 g
weight of the complete device
Up to 20 hours
autonomy in white mode 15 lm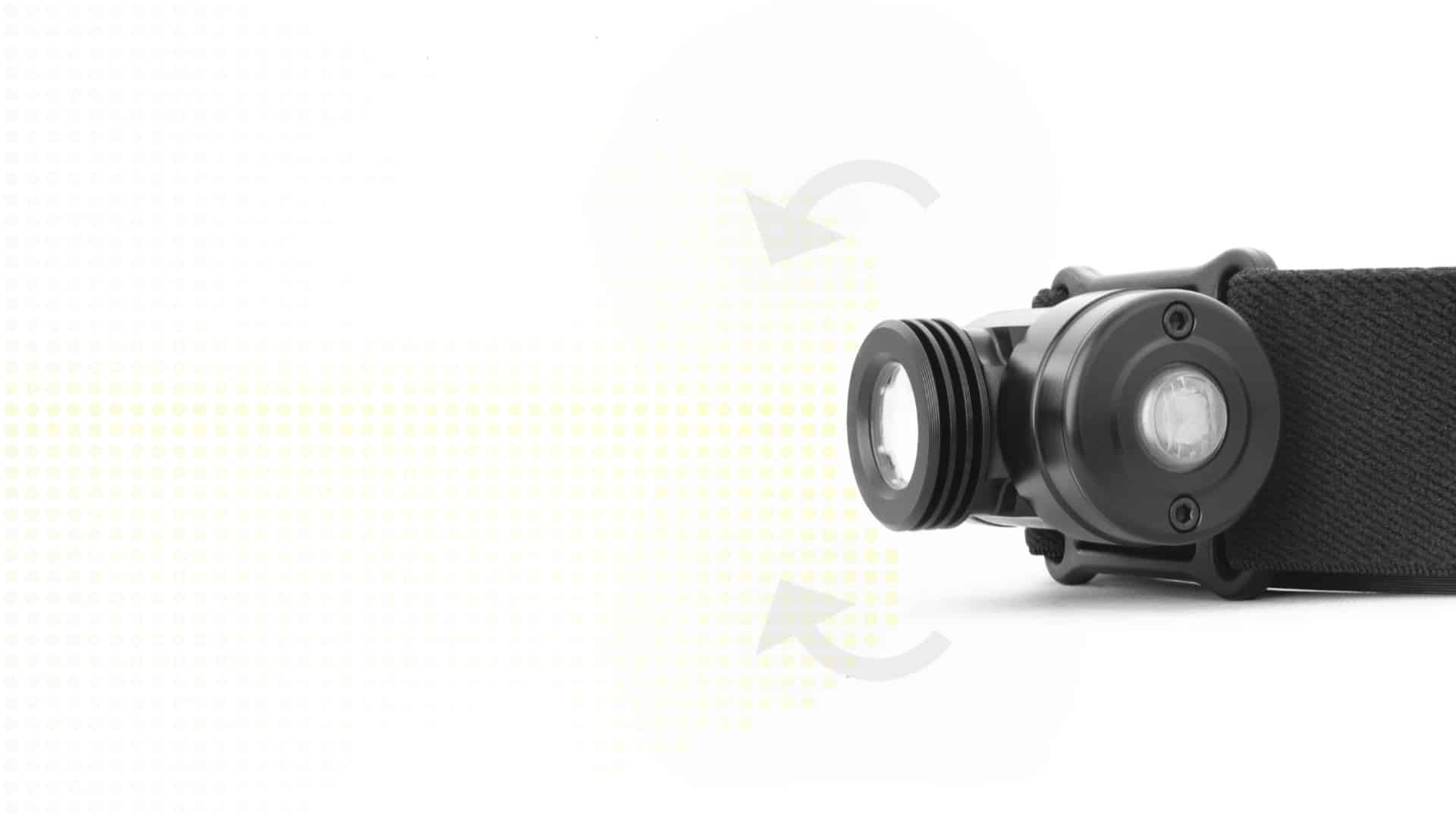 Control your lighting with precision

Vertical adjustment
of the light beam
---
The RAW Pro 2 features a design that allows for easy adjustment of the angle of the light beam in the vertical axis, providing optimal precision to meet specific needs. Thanks to its design, the angle of the light can be adjusted very precisely to illuminate objects at different heights, surfaces at different distances, or specific areas. The 180° range of the orientation adjustment allows for great flexibility in use, ensuring precise illumination to the exact degree.
New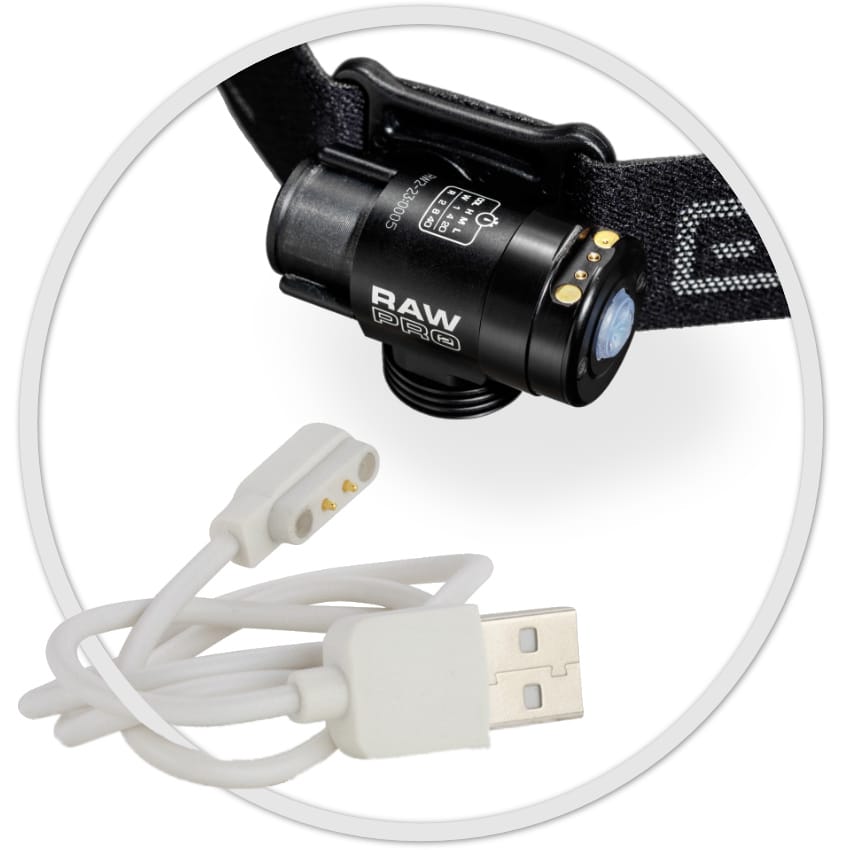 Convenient Recharging

Rechargeable headlamp
with magnetic connector

The rechargeable RAW Pro 2 headlamp features an ingenious magnetic charging system. Supplied with a USB cable equipped with a magnetic tip, it connects in a snap to various compatible power sources (computer, phone charger, boat socket, car socket, portable solar panel), optimizing its use and minimizing its bulk.

The magnetic connector makes charging through the casing easy, ensuring the waterproofness and longevity of the lamp. This fast and secure connection prevents any polarity reversal. Thanks to this charging system, the risks of damage and water infiltration through the charging port are eliminated, offering a reliable and practical solution for all your nautical expeditions.

Quick charge: fully recharge the battery in just an hour and a half (1h30min), and quickly benefit from the lighting performance of the RAW Pro 2 during your adventures.
Advanced autonomy management

Equipped with a charge level indicator, the RAW Pro offers efficient control of the available energy
Easily monitor the remaining battery life of your lamp thanks to the charge level indicator, which informs you in real-time of the remaining energy capacity before you need to recharge the battery. Three seconds after turning on the lamp, the color of the button indicates the remaining battery level:
Green

light

: remaining autonomy is 100 to 50%.
Amber

light

: remaining autonomy is 50 to 25%.
Red

light

: remaining autonomy is 25 to 5%.
Flashing red

light

: remaining autonomy is less than 5%.
-5%
5 - 25%
25 - 50%
50 - 100%
With the RAW Pro 2, handling is simple and intuitive. A single multi-function button ensures the operation, stopping, and switching between different lighting modes. Located on the side of the lamp, this illuminated button allows you to easily navigate through the 7 available lighting modes.
Adaptive Battery Life

Headlamp with varied lighting modes
for maximized usage duration

The RAW Pro 2 headlamp offers remarkable lighting autonomy, adapting to various conditions and lighting preferences thanks to its compact 850mAh Lithium-Ion battery. Despite its small dimensions (width of 55mm, depth of 35mm, and weight of 80 grams), this powerful lamp meets your needs, whether you require a red light to preserve your night vision or a white light for illumination and location. The RAW Pro 2 accompanies you with impressive battery performance for all your nighttime adventures.
Optimization of Night Vision

RED Light
| Modes | | Autonomy |
| --- | --- | --- |
| Minimum | | 40 hours |
| Medium | | 8 hours |
| Maximum | | 2 hours |
Illumination and Location

WHITE Light
| Modes | | Autonomy |
| --- | --- | --- |
| Minimum | | 20 hours |
| Medium | | 4 hours |
| Maximum | | 1 hour |
| Strobe | | 50 hours |
Thanks to its flexibility and extended battery life, the waterproof head torch RAW Pro 2 will quickly become an essential tool during your nautical expeditions and other nighttime activities.
Versatility and performance

A headlamp, two beams:
bright white light and red night vision light

The RAW Pro 2 is a versatile and high-performance headlamp, essential for all outdoor enthusiasts. Featuring two light beams for optimal lighting, this compact lamp is equipped with advanced LEDs and a polycarbonate lens resistant to shocks and heat. Incorporating patented technology that compensates for LED efficiency loss caused by heat. By maintaining a constant voltage, this headlamp optimizes its light output and preserves the battery, ensuring optimal performance even at high temperatures.

Two beams for all situations:
White light: ideal for powerful lighting, with a variable intensity from 15 to 265 lumens and a 300-lumen strobe mode for emergency situations.
Red light: specifically designed to preserve night vision and reduce eye strain. It emits 5 to 75 lumens of red light, allowing for quick adaptation and a return to night vision without disruption when turned off. It is particularly useful for map reading, wildlife observation, or nighttime activities on a boat.
Night Vision Optimization

RED Light
| Modes | | Light Output |
| --- | --- | --- |
| Minimum | | 5 lumens |
| Medium | | 20 lumens |
| Maximum | | 75 lumens |
Illumination and Detection

WHITE Light
| Modes | | Light Output |
| --- | --- | --- |
| Minimum | | 15 lumens |
| Medium | | 75 lumens |
| Maximum | | 265 lumens |
| Strobe | | 300 lumens |
With 7 lighting modes to adapt to all your adventures. Its waterproof design is perfect for outdoor use, hiking, or sailing. With this headlamp, nothing can stop you in the dark.
Waterproof head torch Exposure RAW Pro 2

Simple and intuitive use

The activation and control of the functions of the Exposure RAW Pro 2 headlamp are intuitive:

Press and release the function button and the lamp turns on with 5-lumen red light.

With a single press, you change modes. Navigating between modes from 5 lm red arrow_forward 20 lm red arrow_forward 75 lm red arrow_forward 15 lm white arrow_forward 75 lm white arrow_forward up to 265 lm white.



By default, when turned on, the headlamp lights up in low red light mode of 5 lumens to preserve night vision and prevent accidental glare.

To activate the lamp directly in white light:
In minimum 15 lm mode, press the function button until you get white light.
In maximum 265 lm mode, press the function button until you get white light and then maximum power white light.
To change from red light mode to minimum 15 lm white light mode, continuously press the function button, the lamp turns off and then activates in white light.
To activate strobe light mode, press the function button continuously from one of the white light modes until the light starts flashing.
---
The RAW Pro 2 was designed as the robust tool that will accompany you year after year in all your adventures.
MADE IN UK

Data sheet
| Feature | Specification |
| --- | --- |
| Type of use | Outdoor activities and nautical activities |
| Width | 55.00 mm |
| Depth | 35.00 mm |
| Weight | 80 grammes |
| Composition of housing | Anodised 6063 Aluminium |
| Waterproofness and Submersibility | IP rating IPX7 immersion 1 meter for 30 minutes |
| Buoyancy | Negative |
| Anodisation de qualité marine | Tested to ASTM B117 found to be corrosion-free |
| Impact resistance | Yes |
| Battery | 850 mAh Lithium-Ion |
| Autonomie | RED: High-2h Mid-8h Low-40h WHITE: High-1h Mid-4h Low-20h STROBE: 50h |
| Charging switch | Magnetic connector to USB 2.0 |
| Battery usage | Fuel Gauge |
| Activation | Single button |
| Light source | 2 x White XQE / 2 x Red XPE-R Cree LED |
| Power of light output in lumens (lm) - FL1 Standard | RED: High-75 Mid-20 Low-5 WHITE: High-265 Mid-75 Low-15 STROBE: 300 |
| Lens | Polycarbonate |
| Tracking Flash | Strobe Light |
| Full charge time | 1 hour 30 minutes |
| Warranty | 2 years |
No customer reviews for the moment.
Enjoying the great outdoor